Uses and Benefits of Ginger
Uses and benefits of Ginger
What Is Ginger?
Ginger has been used in Asian cuisine and cultures for tens of thousands of years. It is a root with spicy and citrus notes. Non-GMO ginger is mentioned in ancient Chinese, Indian, and Middle Eastern writings, and has long been prized for its aromatic, culinary, and medicinal properties. Want to know the uses and benefits of ginger? We got you!
What are the uses and Benefits of Ginger?
1. Known to Reduce Nausea
Ginger has been used as a remedy to sea sickness, morning sickness, and car sickness. Everyone can benefit from ginger's magical motion sickness remedy.
2. Has Been Proven to Help Fight Inflammation
Modern scientific research has revealed that ginger possesses numerous therapeutic properties including antioxidant effects and may support a healthy inflammation response.
3. Reduces Muscle Pain
Because of gingers anti-inflammatory properties it assists in pain management and can require individuals to take less or no pain medication. Lowering the amount of pills ingested is an amazing benefit of ginger!
4. Lowers Cholesterol
Ginger has powerful anti-diabetic properties and may assist in lowering fasting blood sugar levels and reducing cholesterol markers.
How do I use Ginger?
Fresh ginger can be sliced into tea, powdered ginger put in smoothies and baked goods (check out our healthy SUTRA recipes), and pickled ginger enjoyed on it's own or with sushi as a pallet cleanser.
You can use ginger in dishes that you cook or order from restaurants, in supplement form, or through hot beverages (our favorite being SUTRA Gold).
---
Ginger Inspiration
Asian Salad & Ginger Dressing
Ginger Honey Glazed Chicken Wings
Pickled Ginger with Sushi
---
Want more uses and benefits of Ginger?
Try our Ginger-Packed Superfoods Powder - SUTRA Gold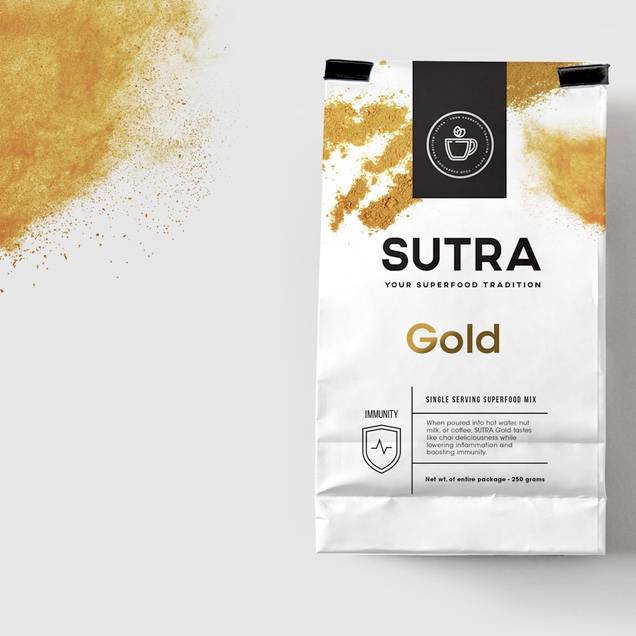 Our Golden Milk has everything you need to keep inflammation at bay. Not only does it taste like a smooth chai latte. With its powderful medicinal properties, anti-inflammatory compounds, and the ability to increases the antioxidant capacity, turmeric has been used for centuries as an immunity booster. Just add to hot water or nut milk and zen out.
Ingredients - Organic Coconut Milk, Turmeric, Rhodiola Rosea, Black Pepper, Ground Ginger, Vanilla Bean, Sea Salt, Cinnamon, Stevia Leaf Extract - Debittered, Cayenne Pepper
---