Why Superfoods
are your new obsession
Here at SUTRA, we may be partial - but we think that our superfood blends are the sexiest thing to hit the market since the bikini. We've combined the ancient ritual of zenfully sipping on a hot beverage with superfoods that have been healing people for tens of thousands of years. Our travel-friendly packets of superfoods are the hottest health trend and your new fav ritual.
5 Reasons to Buy SUTRA Black & Gold
1. SUTRA's Are Delicious and Beautiful
Let's get down to brass tacks. We live in an incredible world with some astoundingly delicious food and beverages. There is no reason we should be choking down murky brown mushroom soups or booger green juices to get our health fix. Our SUTRA's taste mind blowingly delicious and with their bright gold and dark black coloring, it is your Instagram feed's best friend.
SUTRA Black - This pitch black blend is a healthy version of hot cocoa with activated charcoal, red reishi, cacao, coconut milk, sea salt, cinnamon, cayenne pepper, vanilla, and stevia. It detoxifies your body and gives you a natural energizing boost.
SUTRA Gold - Our bright gold version of a turmeric latte contains turmeric, maca root, coconut milk, ginger, vanilla, black pepper, salt, cayenne pepper, cinnamon, and stevia and works as an anti- inflammatory agent, boosting the immune system.
2. Superfoods have incredible health benefits
We have chosen superfoods that have powerful healing properties. Each ingredient alone boasts a wide range of health benefits and when paired together create something that helps you feel truly energized and laser focused.
---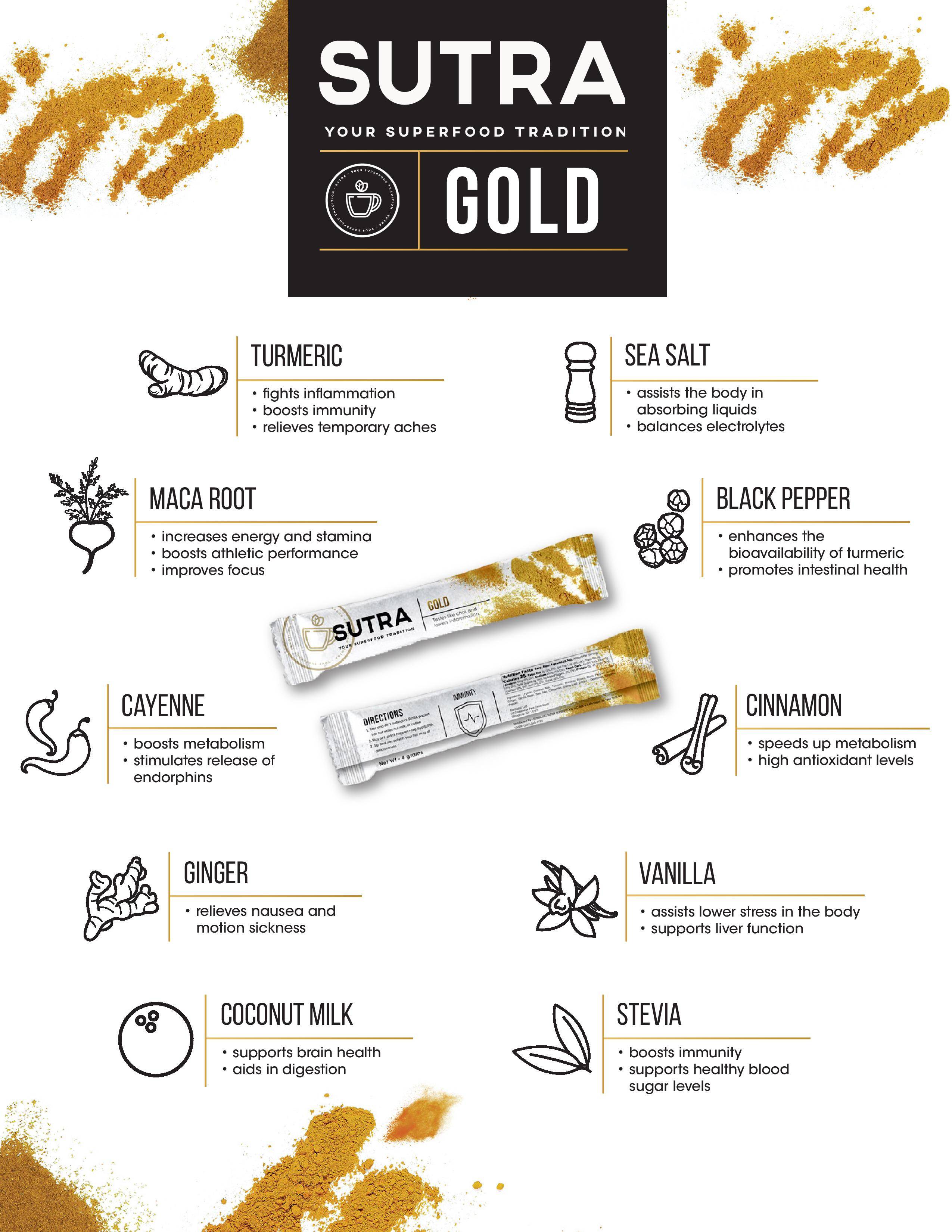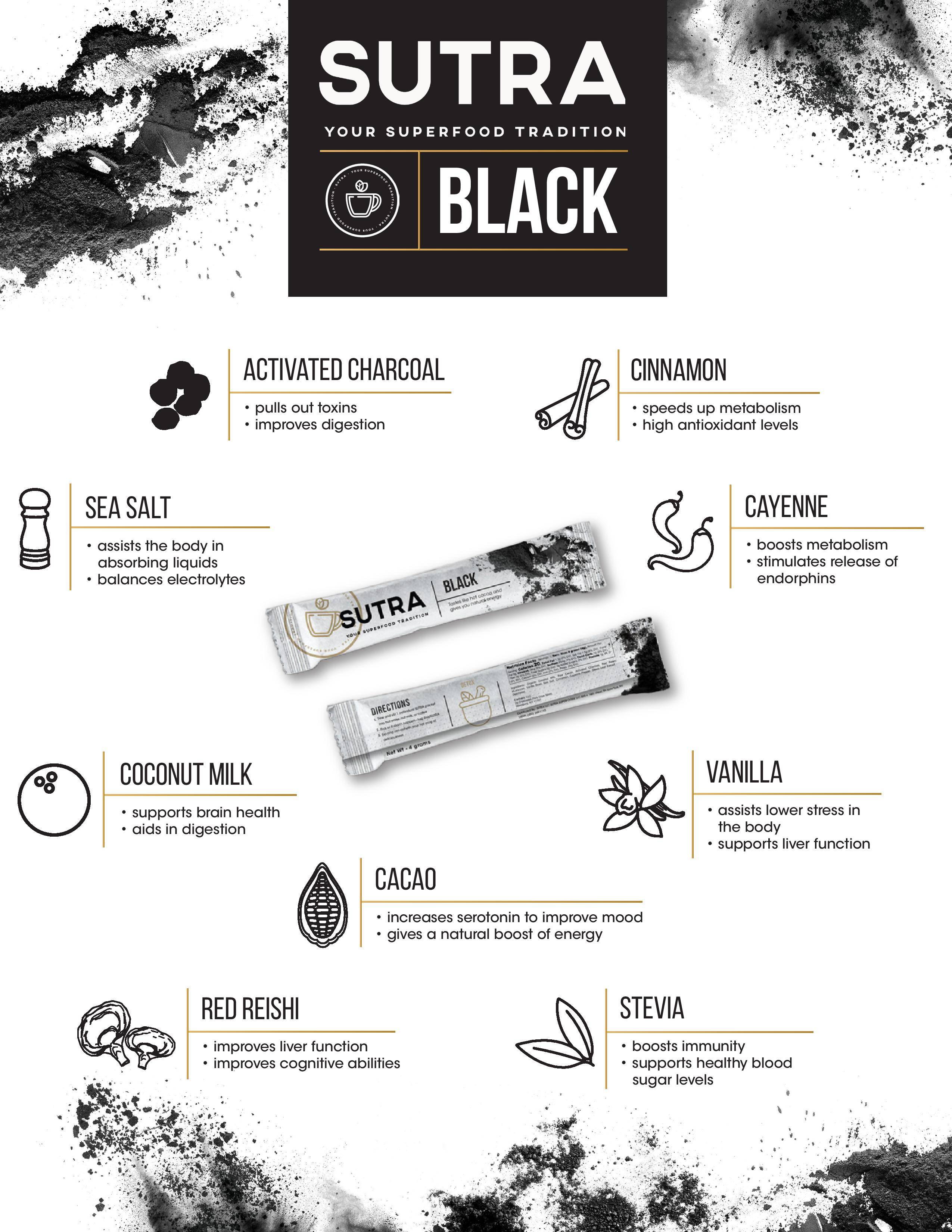 ---
3. Caffeine can be harmful in large quantities
Research has shown that more than 4 cups of coffee has been linked to early death and that caffeine consumption may raise blood pressure, cause insomnia, headaches, lead to anxiety, and can reduce fertility in women. The founders of SUTRA each suffered their own negative effects, from withdrawal symptoms and anxiety to heart murmurs, and cut it completely out of their daily lives.
We aren't asking avid coffee drinkers to completely give the stuff up (although if you do, props). We are simply recommending swapping out one of your daily joe's with one of our SUTRA's. Doing so will lesson the subsequent crash and negative health effects that accompany almost all caffeinated beverages, by supplementing with superfoods that are rich in antioxidants that have natural energy boosting qualities.
4. Gluten/Dairy/Sugar Free & Vegan/Paleo Friendly
Our ingredients are gluten/dairy/refined sugar free, plant-based, vegan, and devoid of stimulants/caffeine, and provide impactful vitamins and minerals. We source our superfoods from around the world and work with suppliers who meet stringent quality, safety, environmental, and ethical sourcing standards ensuring the product you purchase is fresh, of the highest quality, and sustainable.
5. SUTRA was Called a "a game-changer" by Inc. Magazine
Bestselling author, CEO of Web Profits, and Entrepreneur Sujan Patel recently wrote an article in INC. Magazine about the 'Top 5 Ways to Stay Healthy While Building a Business'. When speaking to dietary health, he mentioned, "Get your vitamin fix. With the wave of new consumer foods, beverage options, and nootrophics, it's easier than ever to get essential vitamins and nutrients into your diet. Try products that provide nutrient boosts with little downside. SUTRA has been a game-changer for me. I add it to my coffee to keep the kick, making it a bit healthier while leaving me feeling more focused and balanced." Read the entire article here.
The Many Faces of SUTRA
---