2018's Top Superfood Blends & Recipes
Help sneak extra nutrients into everything you eat with superfood powders!
Whole Foods global buyers, experts, and industry leaders recently released a carefully curated list of trends they predict will dominate 2018, with superfood powders like matcha, turmeric, spirulina, and maca root landing at the #2 position. That says something!
Superfoods have extra-large doses of vitamins and minerals that can help us ward off diseases and live a longer, healthier life.
Some of the nutrients that certain superfoods contain include antioxidants, thought to ward off cancer; healthy fats, thought to prevent heart disease; fiber, thought to prevent diabetes and digestive problems; or phytochemicals, the chemicals in plants responsible for deep colors and smells, which can have numerous health benefits.
2018 Top Superfood Blends
There are lots of superfood blends out there, but we did our research, tried a hole heap out and picked our top favs.
1. Healthy Hot Chocolate - SUTRA Black
SUTRA Black is a delicious activated charcoal detox drink that boosts energy naturally through the use of healing superfoods, without negative effects of caffeine and tastes like a smooth and flavorful hot cocoa. It's the perfect way to start each day or use as an afternoon pick-me-up. Add this delicious wellness superfood to your daily routine in place of coffee or to lessen your daily intake of caffeine.
It contains cacao for natural energy, activated charcoal for a deep detox, reishi for increased memory function, coconut milk for gut health, cinnamon/cayenne for a metabolism boost, vanilla/stevia for a touch of sweetness.
Not your average nut butter! A nutritious, tasty blend of seven nuts and seeds, high in protein and low in sugar. Add to smoothies for a protein punch, drizzle on your favorite pancakes or desserts, spread on fruit, crackers and veggies, or enjoy by the spoonful–however you like, snack on! Made with non-gmo ingredients.
Contains Cashews, Almonds, Brazil Nuts, Flax Seeds, Chia Seeds, Hazelnuts, Pumpkin Seeds, Celtic sea salt.
Birds Eye now makes it easy to enjoy nature's healthiest ingredients with Birds Eye Superfood Blends, a line of ready-to-go dishes made from nature's most nutrient-rich vegetables, grains and fruits.
Contains black rice and edamame with brown rice, red peppers and mango in a light garlic soy sauce.
Blueberry and beet blazed the superfood trail that brings us today to Maqui Berry, an antioxidant-rich berry from Patagonia prized for its anti-aging properties. We combined all three powerful purple ingredients for a vitamin and mineral rich blend that tastes as good as it looks. It's an energy burst that lasts, thanks to 600mg of Omega-3 essential fatty acids and 4g of vegan protein.
Contains fruits, veggies, plant protein, flax, and maqui berry.
5. Healthy Golden Milk - SUTRA Gold
Our SUTRA Gold is a delicious antioxidant rich golden milk that boosts your energy naturally through the use of healing superfoods without the negative effects of caffeine. In fact it tastes like a smooth and flavorful chai latte.  
It contains inflammation fighting turmeric, energy-boosting maca powder, soothing ginger, gut-healing coconut milk, cinnamon /black pepper for a metabolism boost, and vanilla/ stevia for a touch of sweetness.
The Sexiest Superfood Recipes
2018 Has Ever Seen
Just because they're superfoods doesn't necessarily mean they're super-complicated to prepare, though. For those who are crunched for time, inexperienced in the kitchen, or just not in the mood to cook an elaborate meal, we've put together a list of our favorite super-simple, super-healthy recipes.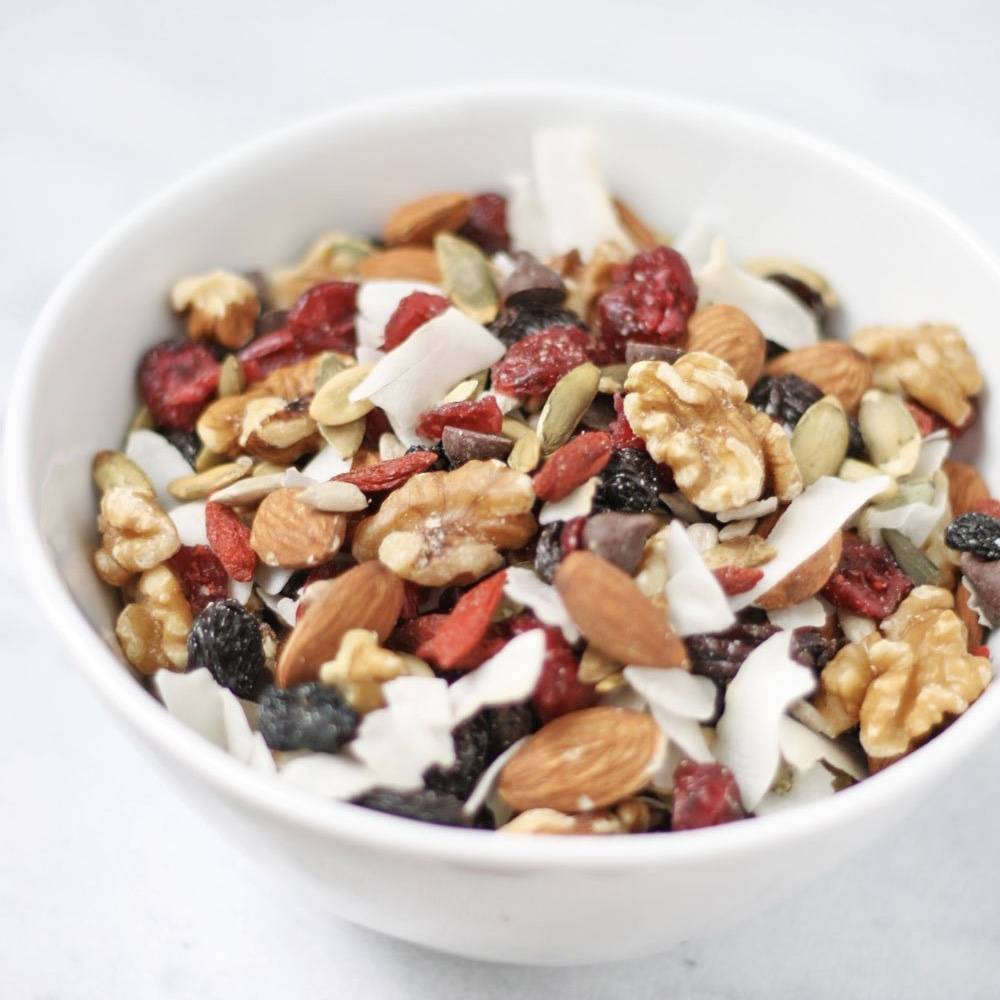 ½ cup almonds
¼ cup walnuts
¼ cup pumpkin seeds
¼ cup sunflower seeds
½ cup unsweetened coconut flakes
3 Tbsp raw cacao nibs
¼ cup goji berries
¼ cup raisins
¼ cup cranberries
1 packet of SUTRA Black
Simply combine all ingredients in a large bowl and stir well to combine. Divide trail mix into smaller jars, or store in one large jar in the refrigerator.
Pumpkin Spiced Oatmeal
1 cup canned pumpkin puree
4 ½ cups nut milk or water
1 ½ cups steel-cut oats
1 packet of SUTRA Gold
In a large saucepan over low heat add pumpkin, milk or water, raise heat and bring mixture to a simmer. Stir in oats, and simmer over medium heat until tender but not mushy, about 25 to 30 minutes.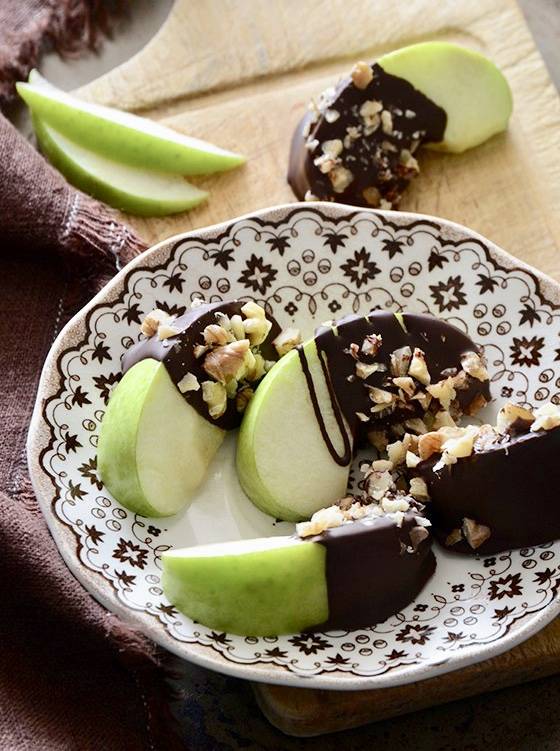 ¼ cup lemon juice or apple cider vinegar
2 medium granny smith apples
3 oz good-quality dark chocolate
1 packet of SUTRA Black
2 tablespoons toasted walnuts, chopped
Add the lemon juice or vinegar to a medium bowl and fill the bowl ⅔ full with cold water and set aside. Core and quarter apples; cut each quarter into 2 wedges so you end up with 8 wedges from each apple. Transfer the apple wedges to the lemon juice/water mixture to soak while you melt the chocolate and prepare the walnuts.
Meanwhile, melt the chocolate in a double boiler or microwave until smooth and add SUTRA Black packet. Finely chop the walnuts and place them in a small dish.
Line a baking tray with wax paper and have it ready to place the apple wedges on.
Drain the apple wedges, and pat them dry with paper towels. Working with 1 apple wedge at a time, dip it in the chocolate, and then sprinkle on some walnut. Place the wedge onto the prepared tray. Continue this way until all the apple wedges are coated. Transfer the tray to the fridge so the chocolate can harden; serve.
2 cups cubed sweet potatoes
1 medium onion chopped
1/2 red bell pepper chopped
4 eggs
1 packet of SUTRA Gold
2 tbsp olive oil
In an oven proof skillet heat olive oil, add onions, bell pepper, sweet potatoes and cook for about 7 minutes.
Crack the 4 eggs on top of the hash and place the skillet under the broiler for a couple minutes until the eggs are cooked to your preference.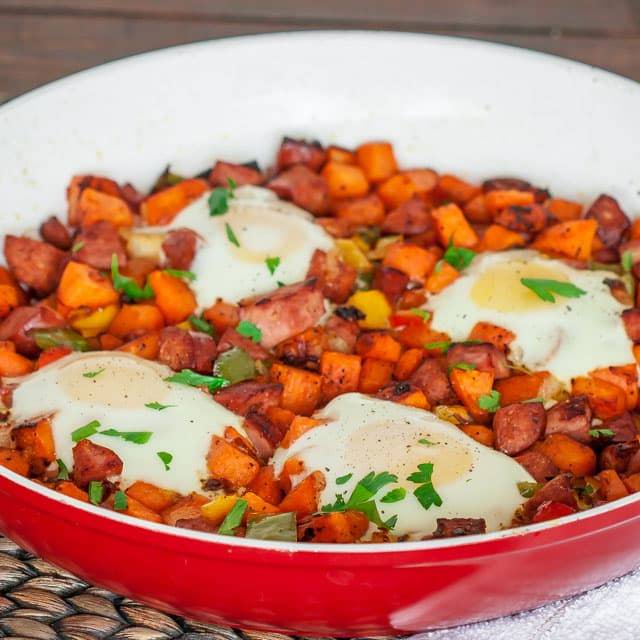 Want to try our favorite superfood blend? One that is energy boosting with ZERO caffeine? Try our healthy SUTRA's below!
ABOUT THE AUTHOR - Jenna Martin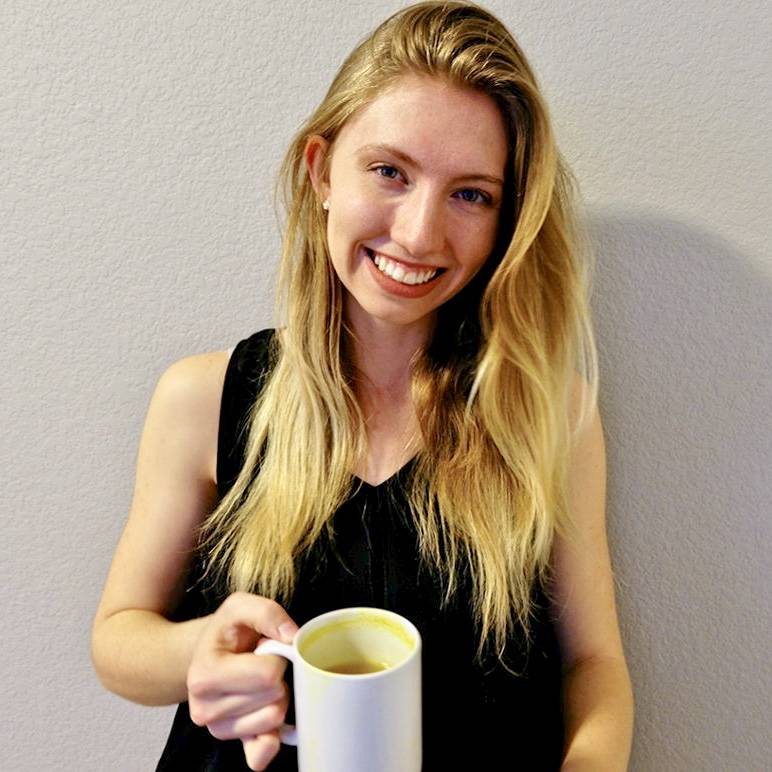 I'm a college lifestyle blogger on a mission to inspire other college kids to seek out adventure and live healthy, positive lives. Ever since about tenth grade I've been obsessed with all things health and fitness, and I love teaching what I've learned. In my free time you'll probably find me writing, lifting, or doting on my handsome cat. Click here if you want to know more!
Follow me on Pinterest and Instagram.
Thirsty for SUTRA Superfood Lattes?
Our Black Cacao Latte blend tastes like chocolate.
Our Gold Turmeric Latte blend tastes like golden milk.
Try both of our Black Cacao Latte and Gold Turmeric Latte blends.